Göbeklitepe / türkiye zero poınt ın tıme
Imagine being teleported 12,000 years back, and going through all the progress made by humanity, step by step. Imagine the dozens of religions, cultures, civilizations you will know and the experience you will have. In Şanlıurfa this is possible even without time machine.
Göbeklitepe was included in the UNESCO World Cultural Heritage List in 2018 and became the 18th UNESCO World Culture Heritage Area of Türkiye. If you want to learn much more about this intriguing 12,000 years old history and feel the power of faith, then Göbeklitepe is waiting for you.
It is not known how old history of humanity goes back in Şanlıurfa. Because every piece of information, we know and learn, changes with a new discovery and goes back even further. According to the legends, the story of Şanlıurfa begins with the arrival of Adam and Eve to the earth. Adam and Eve, planted the wheat grain they brought with them from Paradise on the Harran plain, and thus started agriculture and therefore civilization for the first time here.Since there were no metal tools at that time, it is thought that all of the pillars that make up these structures were carved with polished stones which were harder, and certain animal shapes and figures were engraved on them, some of which were depicted three-dimensionally. These are the oldest sculptures in the world, and therefore the oldest artworks of humanity.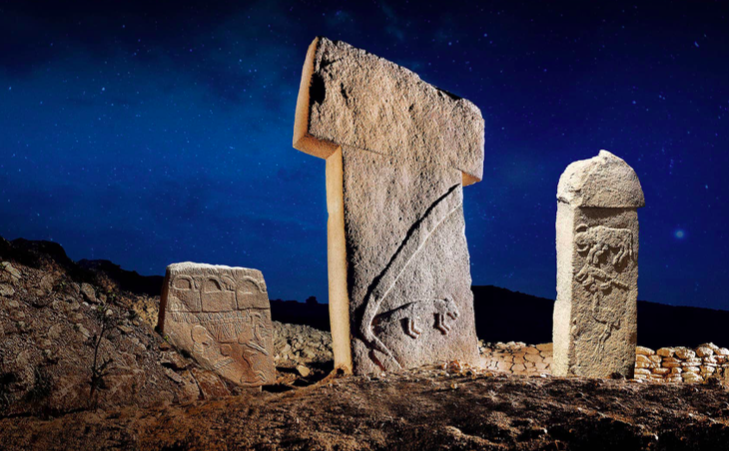 Day 1
Şanlıurfa Archeology Museum
Haleplibahçe Mosaic Museum
Balıklıgöl
Göbeklitepe
Sıra Night
Day 2
Harran Ruins
Traditional Harran Houses
Bazda Caves
Han-el Ba'rur
Shuaib City
Soğmatar Ancient City
Day 1
Şanlıurfa Archeology and Haleplibahçe Mosaic
Balıklıgöl Complex (Balıklıgöl, Ayn Zeliha, Rızvaniye Mosque, Halil ur-Rahman / Döşeme Mosque)
Mevlid-i Halil (Dervish Lodge) Mosque and Cave / Birthplace of Prophet Ibrahim)
Old Şanlıurfa Tour (Selahattin Eyyubi Mosque / St. Johannes Prodromos Addai Church
Fırfırlı Mosque / Twelve Apostles Church
Holy Apostles Church
Mevlevihane Mosque
Ulu Mosque
Reji Church /Saint Petrus and Saint Paulus Church)
Day 2
Germüş Church (Saint Job) and Germüş Village
Göbeklitepe
Prophet Ayyub (Job) Village and Tomb (Viranşehir)
Tella Martyion Posts (Viranşehir)
Day 3
Prophet Ayyub's (Job) Patience Quarter
Harran (Harran Ruins, Prophet Jacob Well, Hayat-i Harrani Tomb, Ulu Mosque and Harran Houses)
Bazda Caves
Han-el Ba'rur
Shuaib City
Soğmatar
Day 1
Traditional Şanlıurfa breakfast (with isot, eggplant, eggplant with pepper paste, honey, cream, chickpeas, pita bread)
Şanlıurfa Museum Visit
Haleplibahçe Mosaic Museum visit
Local lunch (with borani, içli köfte, keme kebab (seasonal), baklava, Şanlıurfa katmer made with fresh Şanlıurfa cheese)
Balıklıgöl and Historical Şanlıurfa Bazaars Visit
Dinner (with lebeni, bostana, ağzı açık, ağzı yumuk, stew made with isot and tomato)
Day 2
Breakfast with tirit soup
Harran ruins and excavation site tour
Lunch at Harran cupola houses or village houses
Local architecture and local culture experience
Sıra night and dinner (with lebeni, bostana, içli köfte, mini lahmacun, mixed kebab, şıllık dessert)
Day 3
Breakfast in Birecik (Chickpea wrap)
Ibis breeding station visit
Boat tour to Rumkale and Savaşan village visit
Lunch in Halfeti (with shabuot fish, mixed kebabs or seasonal meat fruit dishes, semolina halva)
Old Halfeti city tour
Dinner (Şanlıurfa style liver wrap in Şanlıurfa street liver shops)
Escape To The Luxury This Printemps